Conferences, Dinners and Meetings
Whether your gathering is a small affair or a sizable crowd the Manitoba Centennial Centre and Centennial Concert Hall have reception facilities ideal for groups ranging from 12 to 1,500 guests.
Planning a wedding? Visit our dedicated weddings page
Our available in-house services and inventory include:
Full beverage and bar service
Support service staff & event planning assistance
Audio equipment options
Internet options available
40 round dinner tables, 40 eight-foot tables
160 dinner chairs, 220 folding chairs
20 tall cocktail tables
15 café style tables and chairs
30 stanchions with ropes, 10 easels for signage, limited stock of pipe and drape
Podiums
Off premise caterers may be used to provide your catering needs
We would be pleased to host your next event. To find out which of our reception facilities would be best suited for your wedding, meeting, conference, reception, please contact:
Gerry McDougal - Gmcdougal@mbccc.ca 204-957-6393
Manager, Marketing & IT
---
Centennial Concert Hall Lobby
Gather under the stunning chandeliers and surround yourself in the modern brutalist architecture of the late 1960s. 
Area Features:
High ceilings featuring majestic chandeliers
Greta Dale mural in main lobby and Tony Tascona murals in south and north orchestra
14 lobby screens throughout 3 levels of the lobby
Abundant electrical outlets on all levels
Wi-Fi in main lobby area
Coat check for 400+
Accessible friendly via ramps and elevator
Capacity: 
Standing events/receptions up to 1500
Seated meals up to 600 guests
Ideal For: 
Galas / conferences of 200-1500 attendees
Wedding receptions and ceremonies
Small concerts, events, and dinners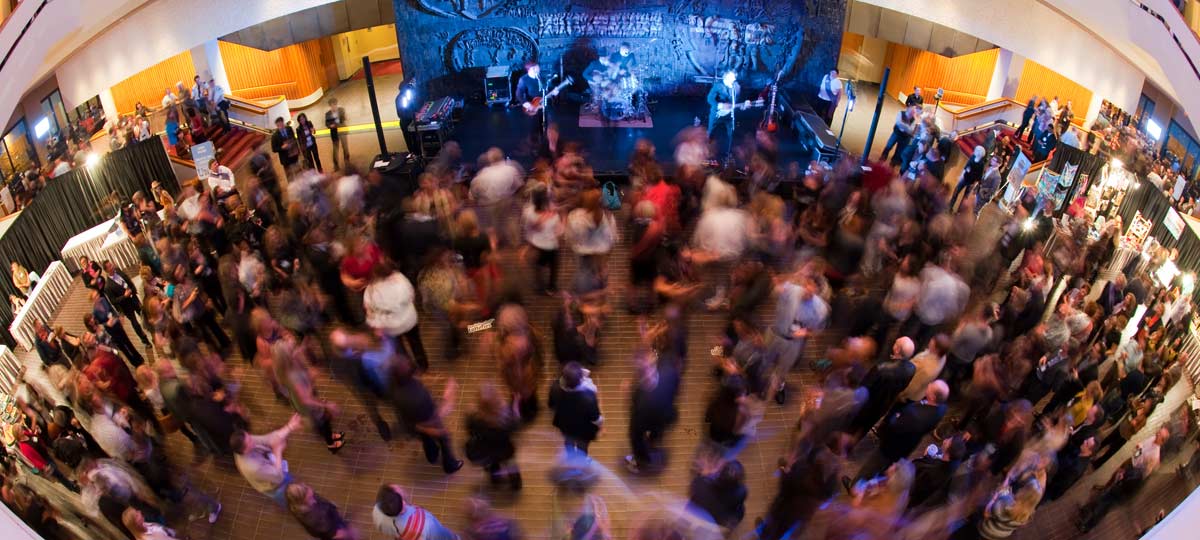 ---
Sound Bites Room
Dedicated private space located in the lower level of Manitoba Centennial Centre for the Arts, perfect for private events. Area is completely separate from Centennial Concert Hall.
Area Features:
Natural lighting
Dedicated washroom facilities
Two breakout private meeting areas
Private catering area
Internet options available
Accessible friendly
Capacity:
Ideal For:
Daytime meetings and events
Evening events
Dinners
Small performances
Rehearsals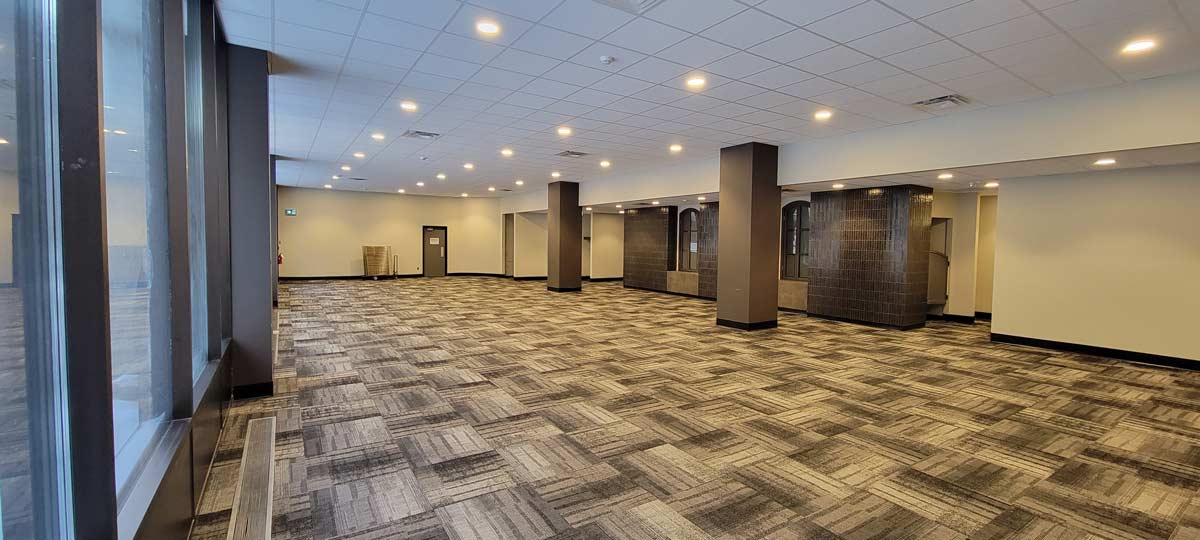 ---
PIANO NOBILE
The Manitoba Centennial Centre Corporation supports Manitoba visual artists through monthly exhibitions on the Piano Nobile, the Gallery has featured the creations of over 200 Manitoba artists.
In addition to displaying the work of Manitoba artists, the Piano Nobile is our showcase dinner reception area. 
Area Features:
High ceilings with majestic chandeliers
Rotating art gallery from Manitoba artists
Plug and play microphone
Coat check for 500+
Baby grand piano to add to ambiance
Wi-Fi
Two lobby screens
Accessible friendly via elevator
Capacity: 
Standing receptions up to 380
Seated meals up to 120
Ideal For: 
Dinners up to 120 guests
Receptions with bar and hors d'oeuvres
Wedding ceremonies
Small concerts and private events
Auditions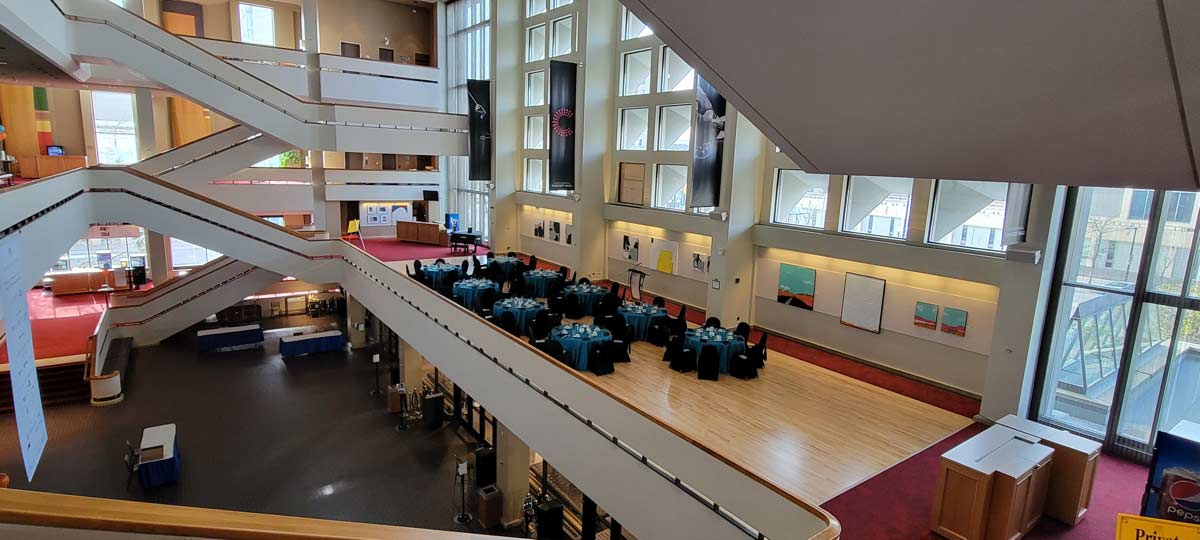 ---
RED ROOM AND EXTENSION
Located on the north side of first balcony, the red room offers a space for private dinners and receptions to take place during a performance for a group or corporate event.  
Area Features:
High ceilings and banner art created by Tony Tascona
Red Room features private bar, washroom, couch, tables and lounge chairs
Adjacent to backstage for performers attending a reception
Area coat rack for 30+ guests
Internet access can be arranged
Accessible friendly via elevator
Extension area can be configured to suit the number of guests
Capacity: 
Standing receptions up to 300
Seated meals up to 88
Ideal For: 
Private receptions during events
Daytime meetings and lunches
Relaxation sessions and yoga classes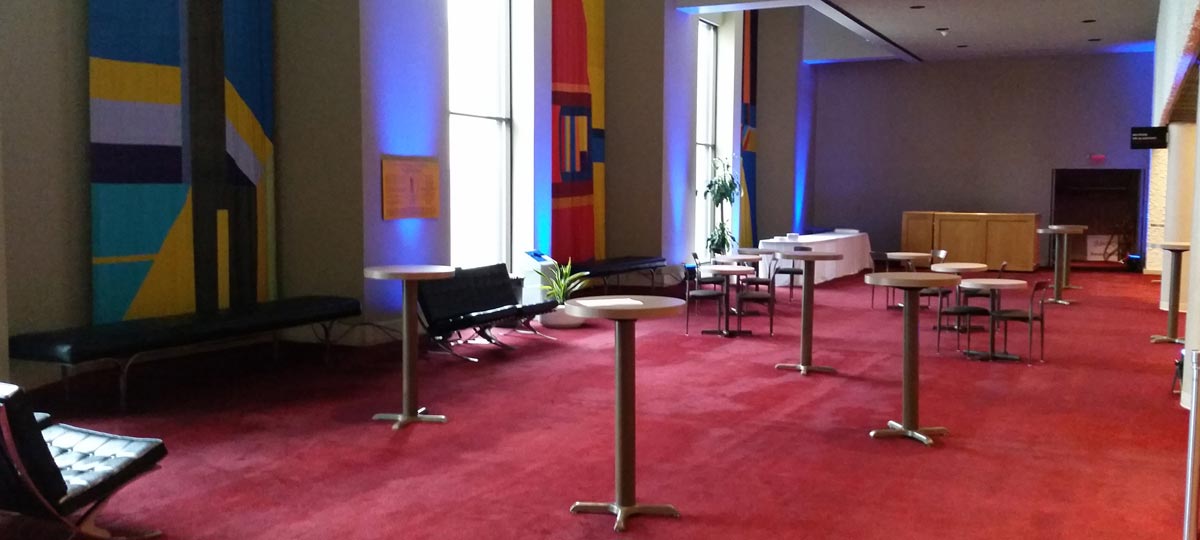 ---
Rehearsal Room 1
Located backstage, rehearsal room 1 offers a space to hone your craft or host auditions / meetings. 
Area Features:
High ceilings 
Seating for 20 in viewing gallery
Wi-Fi available
Dedicated internet tie in available via Shaw cable
Soundproofing
Grid for lights and sound
Backstage entrance is accessible friendly
Capacity: 
60+ member orchestra fits for rehearsal sessions
Standing receptions up to 100
Seated meals / meetings up to 60
Ideal For: 
Rehearsals, recordings, and auditions
Fringe Fest style performances: additional seats added to floor
Daytime meetings / learning sessions
Post event backstage receptions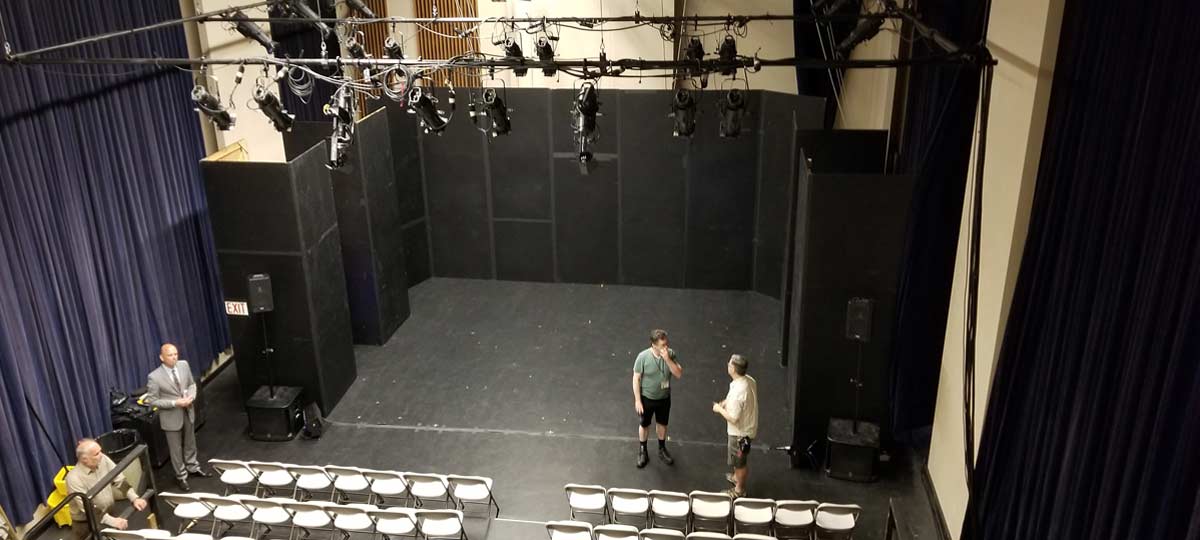 ---
Rehearsal Rooms 2 & 3
Smaller rehearsal rooms allow for private teaching, practice sessions or small meetings of 10+, depending on configuration.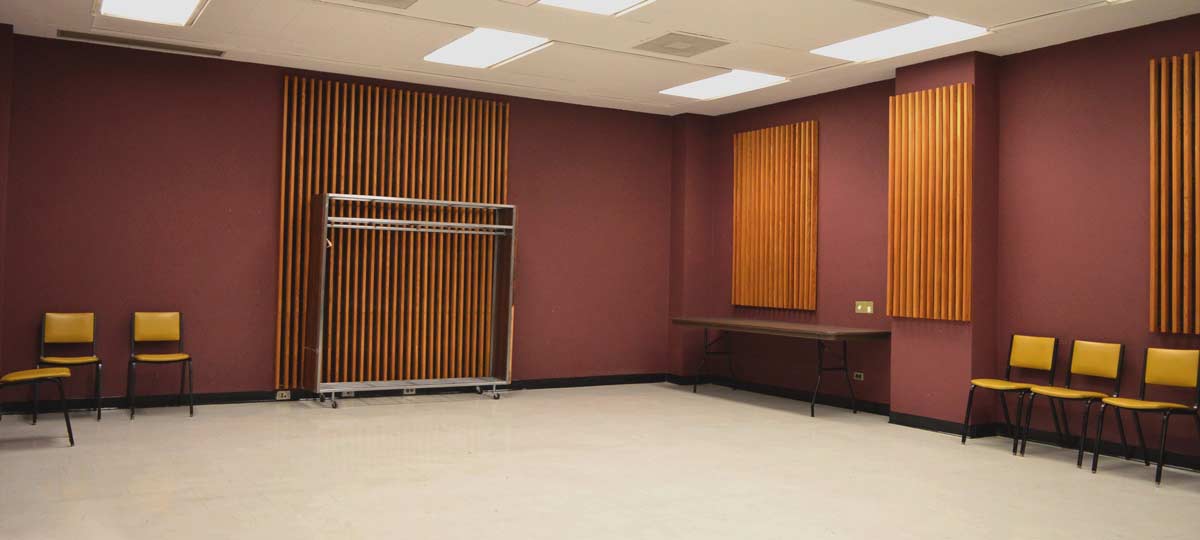 ---
STEINKOPF GARDENS
Located in the heart of the Manitoba Centennial Centre between the Manitoba Museum and Centennial Concert Hall. The Steinkopf gardens provide an escape from downtown, featuring gardens and fountains to enhance relaxation. 
Area Features:
Standard picnic tables on site
Additional seating available for events
Adjacent to underground parkade
Accessible friendly via Lily avenue, parkade and concourse entrances.
Capacity: 
Standing events up to 200 people
Seated events can range depending on configurations
Ideal For: 
Wedding ceremonies
Outdoor exercise or learning sessions
Staff barbeques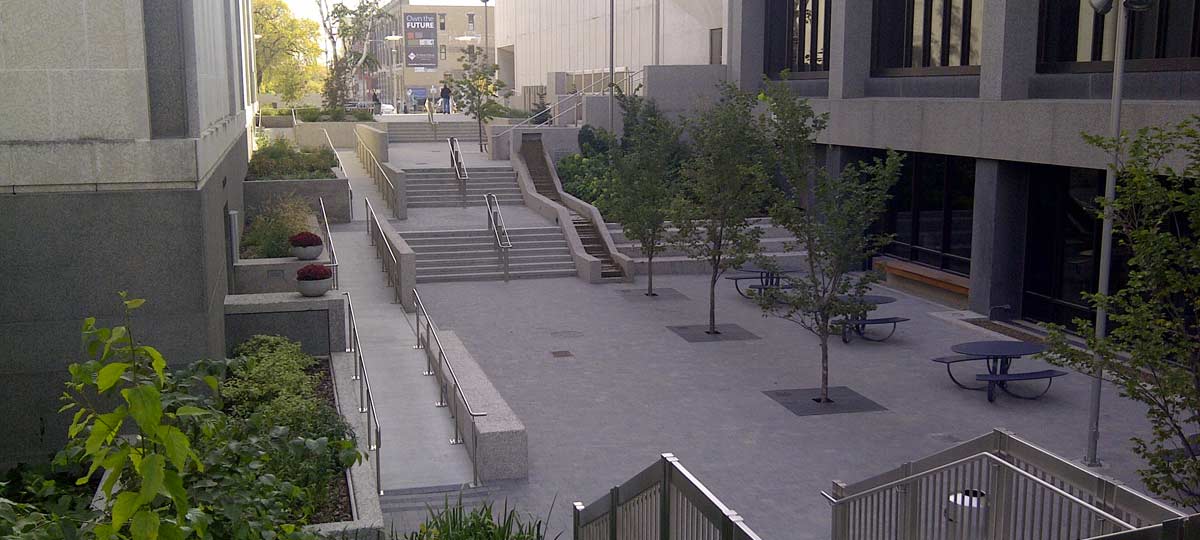 ---
HELEN STEINKOPF BOARDROOM
The boardroom is an ideal space for up to 14 people, it is styled with modern furnishings and features art by Daphne Odjig, Norval Morriseau, Don Laforte, Carl Ray and Jackson Beardy. 
Area Features:
Buzzer with camera to allow guests in
Projector
Whiteboard
Conference phone
Large notepad
Internet
Beverage service available
Capacity: 
Ideal For: 
Meetings and presentations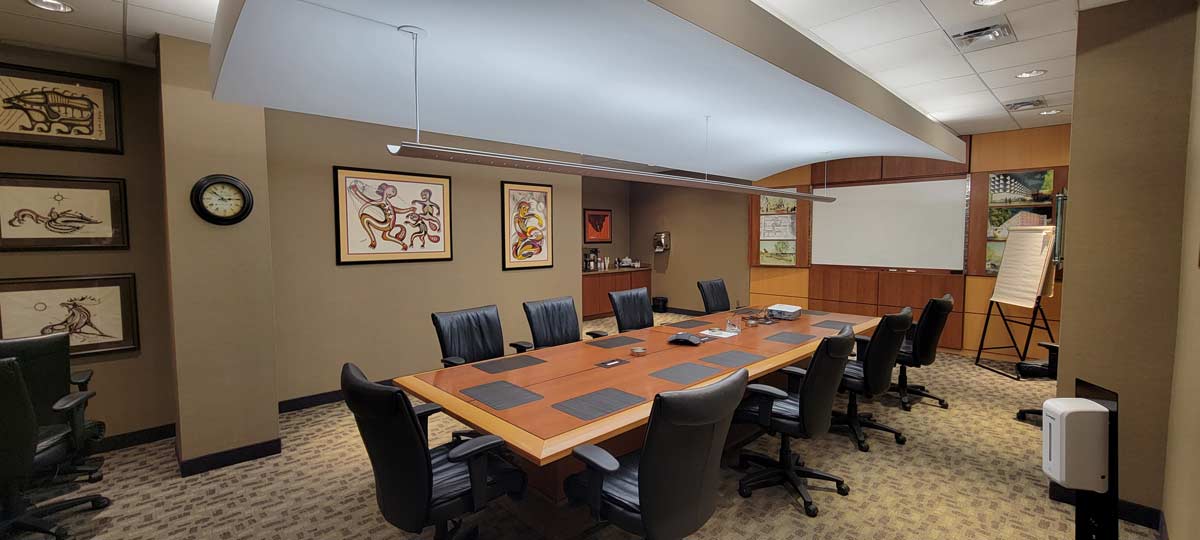 ---
Additional Meeting Space
Meeting space within the Manitoba Centennial Centre. 
Area Features:
Projector and screen
Beverage service available
Capacity: 
10 – 25 depending on configuration
Ideal For: 
Small daytime meetings / learning sessions