Shumka On Tour in Winnipeg at Centennial Concert Hall has been rescheduled to May 5, 2022. On sale November 9, 2021 via CentennialConcertHall.com and at the box office by phone 204-949-3999.
If you have tickets from the original show, your tickets remain valid. Order inquiries, please contact us at Help@centennialconcerthall.com.
After decades of performances near and far, the whirlwind returns with its tenth Canadian tour. 
Shumka means "whirlwind," a powerful display of artistry, energy and emotion through dance. Over 60 years of performance history has shaped the Ukrainian Shumka Dancers' signature dance style. With true respect for their heritage, Shumka continually challenges conventional boundaries to define the art form of Ukrainian Canadian dance today. 
The Toronto Star called Shumka "Canada's National Treasure," and the Globe & Mail compared Shumka to Riverdance. 
Celebrating Shumka's legacy as one of the most exciting dance companies in Canada, Shumka on Tour will feature two new works including Shumka's whimsical Mosquito's Wedding, a true feast for the eyes and a love story with a message that all we need is love; and a salute to the past through an adaptation of Shumka's celebrated signature work in Echoes of Hopak. 
Other
Live performance, full capacity audience
Patrons of all ages require a ticket for entry
No refunds or exchanges
Running Time 2 hours and 15 minutes including intermission.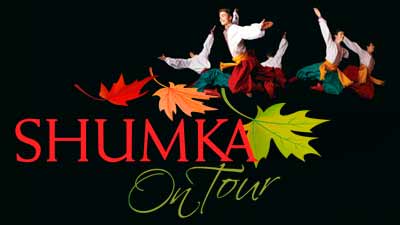 Centennial Concert Hall
555 Main St, Winnipeg, MB
Tickets at 204-949-3999
centennialconcerthall.com
Performance date
May 5, 2022
Your original tickets remain valid
On sale date
Nov 9, 2021 | 10:00 am