The Magic Flute
RWB Digital Performance
April 30, May 1 | 7:30 pm CST
May 2 | 2:00 pm CST
Tickets at
RWB.org
Show Description
Mozart's famous 1791 opera-turned-ballet, The Magic Flute, depicts a land between the sun and the moon, where the Queen of the Night beseeches Prince Tamino to save her daughter from Sarastro and offers a magic flute as protection. Reason and virtue confront irrationality and evil in this singspiel for the ages, as the hero attempts to uncover the truth before it's too late.
Our latest adaptation was creatively restaged by choreographer Mark Godden while continuing to honour the ideas, characters, and music of Mozart's original composition. A reduced runtime lends each scene in The Magic Flute of 2021 more significance in conveying the hero's journey. The ballet even features a surprise ending inspired by our circumstances that will wow even fans of our original staging.
Enjoy this restaged ballet from the comfort of your home. Please join us after the performance for a Q&A with Artistic leaders and/or Company Dancers.

FEATURED CREATIVE TEAM
CHOREOGRAPHY
Mark Godden
SOUND DESIGN
Jean-Pierre Côté
MUSIC
Wolfgang Amadeus Mozart
SET & COSTUME DESIGN
Paul Daigle
LIGHTING DESIGN
Pierre Lavoie
Presented by the Royal Winnipeg Ballet
Centennial Concert Hall is assisting with promotion of the event and receiving a commission for patron referral via embedded promo code in link to RWB.org, but is not directly affiliated with production or sale of tickets. We cannot assist with customer service related issues, please refer to RWB.org.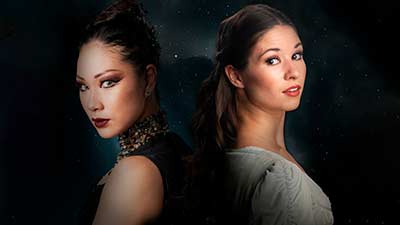 The Magic Flute
RWB Digital Performance
April 30, 2021 - 7:30 pm CST
May 1, 2021 - 7:30 pm CST
May 2 - 2:00 pm CST