Alice Cooper - CANCELLED
Concert
The Winnipeg performance of Alice Cooper scheduled for November 19, 2020 at Centennial Concert Hall has been cancelled.

Refunds for phone and internet orders will be processed automatically over the next 7 to 10 business days. If you do not see your refund on your statement within the next 3 weeks, please reach out (with your order number) to help@centennialconcerthall.com

If you purchased tickets directly in person at the box office please reach out to help@centennialconcerthall.com to arrange an appointment time to receive your refund.

Presented by Invictus Entertainment Group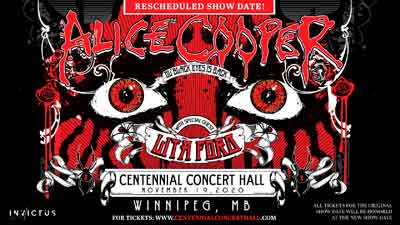 Centennial Concert Hall
555 Main St, Winnipeg, MB
centennialconcerthall.com
Date:
Cancelled